In 1963, James W. Loewen went to Mississippi as an undergraduate. In 1997, Stephen Berrey came to the state. Both chose Mississippi because it exemplified social processes in the United States in a more exaggerated, hence clearer, form. Both wrote their first books about Mississippi. We include these items, hoping they have value to people learning or teaching about Mississippi or about the United States but using Mississippi as an example.
Mississippi: Conflict and Change

After getting a grant from the Southern Education Foundation, I recruited students and faculty from Tougaloo College and from Millsaps College, the nearby white college, to write a new textbook of Mississippi history, aimed at ninth-grade students. "Mississippi History" was required in ninth grade and also in fifth grade, requirements enacted by the legislature in 1956 as part of the white supremacist reaction to Brown v. Board of Education, the 1954 Supreme Court decision that called for school desegregation. The idea had been to defend "the Southern way of life" (racial segregation) by indoctrinating white and black students to believe that the only time African Americans were allowed to be citizens (Reconstruction) was a disaster. It wasn't true, but teaching it was effective in convincing even black students of this lie.
"A Lesson from Mississippi": A Synopsis of the MS History Project.
Famed writer Robert Coles reviewed Mississippi: Conflict and Change shortly after it came out.
Assessments of Mississippi: Conflict and Change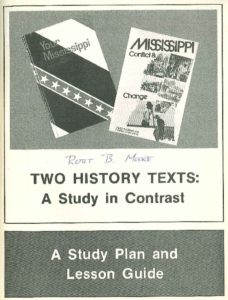 A year after Pantheon published Mississippi: Conflict and Change, out of the blue appeared in the mail a copy of a 24-page booklet, "Two History Texts: a Study in Contrast" (NYC: The Racism and Sexism Resource Center for Educators, 1976). Affiliated with the Council on Interracial Books for Children, a NYC organization that was important in the 1970s, its author, Robert B. Moore, compared our book to John Bettersworth's Your Mississippi. He called Conflict and Change "far superior in form and content to all history textbooks we have seen." Your Mississippi, on the other hand, on the other hand, "should not have been adopted" because it "is too distorted, biased, and full of omissions to qualify for use as a history text."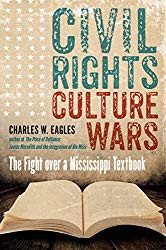 The University of North Carolina Press recently released a new book by Ole Miss historian Charles W. Eagles, Civil Rights, Culture Wars: The Fight over a Mississippi Textbook. It tells the story of the project that created the new textbook, describes the product, and then tells of the lawsuit required to force its adoption by the State of Mississippi.
The lead article in The Journal of Mississippi History, 72#1 (Spring 2010) is Rebecca Miller Davis, "The Three R's — Reading, 'Riting, and Race: The Evolution of Race in Mississippi History Textbooks," pp. 1-45. She concluded, "Conflict and Change and the court case that put it in the schools were turning points for Mississippi education …"
In the federal lawsuit, Loewen et al. v. Turnipseed et al. (488 F. Supp. 1138), Judge Orma Smith concluded "that the textbook Mississippi: Conflict and Change was not rejected for any justifiable reason." Instead, "the rejection of this textbook was motivated and influenced by racial issues."
Journalist Jason Berry, who had lived in Mississippi and New Orleans, gave Mississippi: Conflict and Change a glowing write-up in 1975 in "Teaching Mississippi History," The New York Times.
Other Resources for Teaching Mississippi History
Here are two sites that have much information about the Civil Rights Movement in Mississippi (and other states). If you teach K-12 (or college) in MS or about MS, these may be useful to you and your students. Don't be overwhelmed, just see what's there and use some of it. The first is maintained by veterans of the Civil Rights Movement, the second by Brown University.
American Radio Works did a series on the Civil Rights Movement in Mississippi that teachers can assign students to listen to, if they wish.
What You Can Do to Cause Social Change in Mississippi
Donate to Tougaloo College. Why Tougaloo? Because an emphasis on social justice still permeates the campus, and the ideal of the "beloved community" from the Civil Rights Movement still lives as a goal. And because every dollar makes a real difference at Tougaloo, so you get the best "bang for your buck." Support The Public Schools And Activities Within Them. Without good schools, solid educationally and diverse racially and economically, Mississippi cannot really advance. Follow the maxim of Greg Snowden, Speaker Pro Tem of the Mississippi House of Representatives in 2013: "We should not pick and choose which parts of our story to tell and which parts to leave untold. All Mississippi history belongs to all Mississippians, even those parts – maybe especially those parts – we wish had turned out differently than they did."
Loewen et al. v. Turnipseed et al. Vindicates Mississippi: Conflict and Change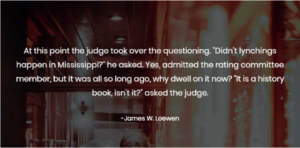 Maps Related to Mississippi History and Social Structure
Short Biographies of Mississippians
Among other innovations, Mississippi: Conflict and Change featured short biographies of Mississippians, providing readers with enough detail that they might imagine the lives of individuals in various eras and occupations. Since then, Loewen has written additional vignettes of a few more recent Mississippians.
Articles and a Monograph about Mississippi
Articles on Mississippi, 2000-2020
A few states have "state jokes." Vermont does, as do Maine, Minnesota, and perhaps Texas and Oregon (or at least Portland). I mean jokes that residents tell about themselves and their own state. These are very different from jokes that people tell about
other
states. Minnesotans tell jokes about residents of Wisconsin, for example, and vice versa, but they don't have the rueful self-deprecatory tinge of
How To Talk Minnesotan
. And I certainly don't mean the awful stereotypes about poor people and rural people that inhabit West Virginia jokes, told by "sophisticates" in DC, MD, and VA,
never
by anyone from or in WV. So far as I know, Mississippi doesn't have state jokes. But I have experienced several jokes
in
Mississippi that I would like to share with you: