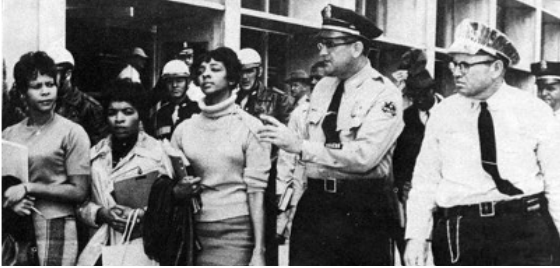 The photo shows police arresting Tougaloo College students who were trying to use the main Jackson (MS) Public Library in 1961. It was Mississippi's first sit-in. By 1975 most examples of "de jure" segregation were gone from the Southern states. However, African Americans (and to a degree Native Americans, Latinx, and some others) still faced "mere" discrimination.
I wrote this chapter for a campus-wide one-credit course at the University of Vermont in the 1990s. It tries to show the difference race makes, its title, in six distinct areas of social structure. It needs to be brought up to date with information from the current U.S. Census and other sources. I hereby make it available without restriction to anyone who wants to undertake this update, free of charge. Alter it as you want, so long as you don't do damage to my intent; please do footnote me. I think you will find it a useful vehicle for getting across the importance of racial disparities even today, in 2020 when I write this introduction, and even in the future, whenever you consider the update.
Short Articles on Race Relations
Way back in 1978, Loewen and Karl Taeuber, demographer at the University of WI, co-wrote an article, "School Segregation and Residential Segregation: A Social Science Statement." The Center for National Policy Review attached it as the Appendix to the "Brief for Respondents" in the case Columbus Bd. Of Ed. Et al. v. Gary L. Penick et al.(S. Ct. of W.S., 10/1978, #78-610.  It was reprinted under the name Gary Orfield in Walter Stephan and Joe Feagin, eds., School Desegregation: Past, Present, and Future (NY: Plenum, 1980), though Orfield only signed the document; he did not write it.
"The Last Innocents: The Civil Rights Movement and the Teaching of High School History" is Loewen's essay on how textbooks present the Civil Rights Movement, compared to how they should.
"How Does the U.S. Teach about the Vietnam War? How Should It?"
Joan Richardson, "Lies and American History: An Interview with James W. Loewen," Phi Delta Kappan
Edward Burch interviewed me in Clamor Magazine #34, 27-30.