James W. Loewen (1942-2021)
We mourn the loss of our friend and colleague and remain committed to the work he began.
For more on his life and work:
If you have reflections on the life and work of James Loewen we invite you to share those with us by sending an email to publichistorysites@gmail.com.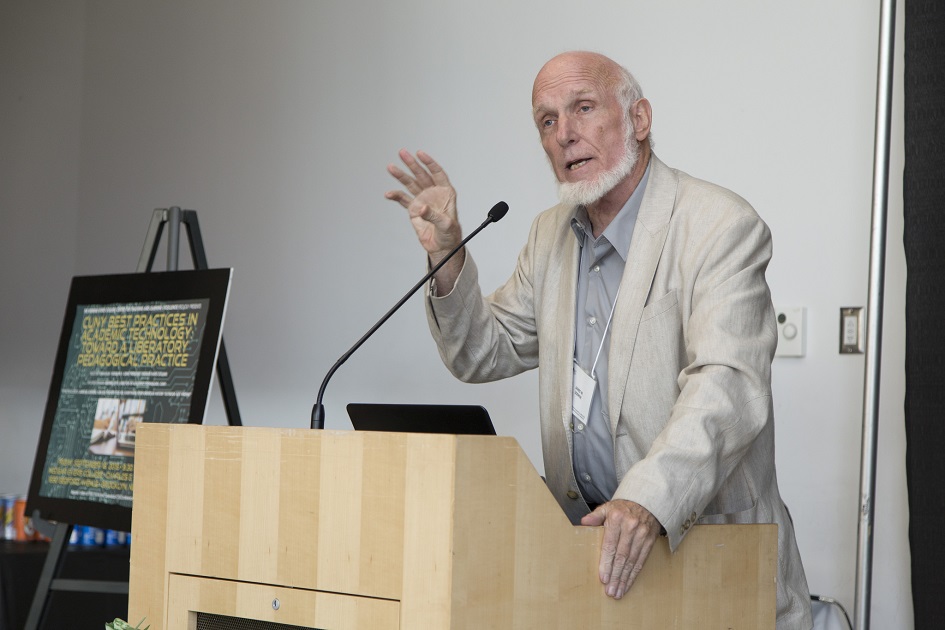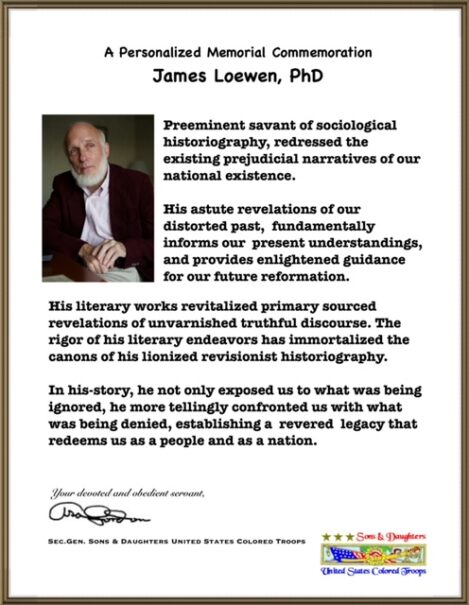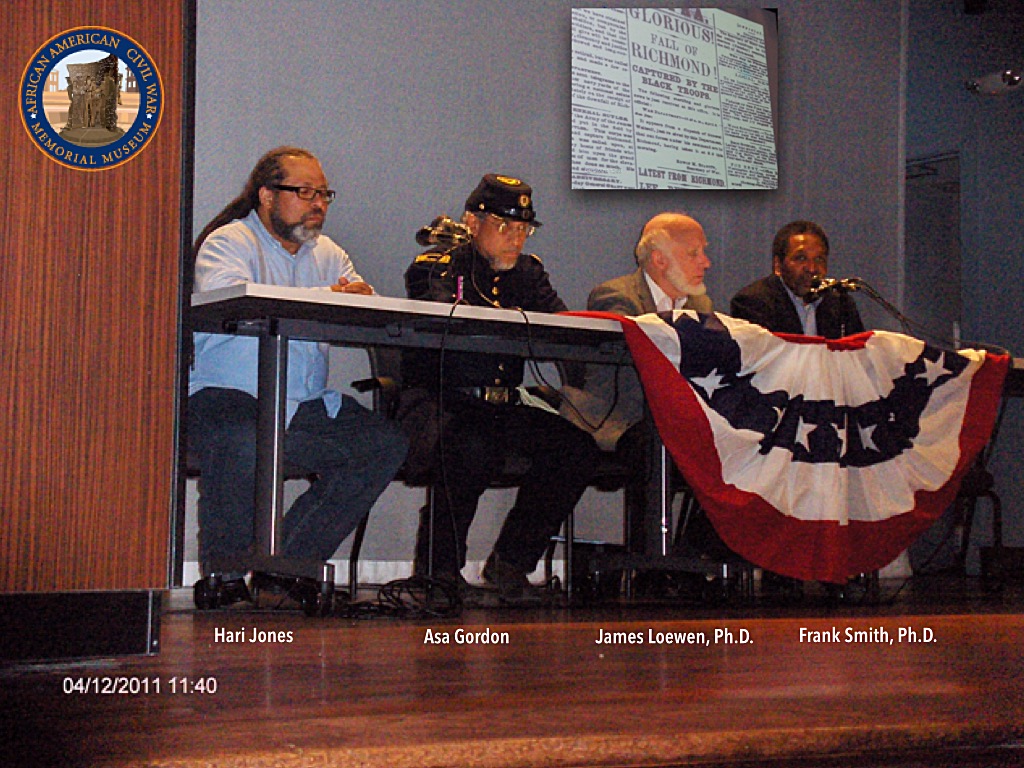 *****
Dr. Jim Loewen was my friend, a fellow civil rights worker, my sociology professor when I was an undergraduate student at Tougaloo College, and eventually my colleague. A Great Encourager, he insisted that I apply for a Danforth Graduate Fellowship, an extremely competitive nationwide program that fully supported my graduate study, all the way through the doctorate level, at any university of my choice. And, when I received my doctoral degree from Harvard, Jim insisted that I wear his cap and gown.
Jim spoke truth — unvarnished, sometimes abrasive, hard-to-hear TRUTH. He talked a LOT, but I didn't really mind because he always had interesting factoids to share. For example, imagine my dismay when Jim informed me that I own a home in a "sundown town," which, as late as 2014, still had ordinances prohibiting Black people from remaining in the town after dark. [Note: those particular ordinances had not been enforced in recent years; nevertheless, they remained unrevoked.]
A meticulous researcher and prolific writer, Jim Loewen authored, "Lies My Teacher Told Me," "Sundown Towns" and numerous other books and articles about race, racism, truth in history, and social justice. I share his passion for those and related topics. Jim was always excited about his projects. I am thrilled that he made plans for the continuation of his invaluable work.
Well done, dear friend!
–Patricia A. Wright, EDD, Harvard 1976; BA, Tougaloo College, 1970
*****
I am a founding member of the Jim Loewen Fan Club. As a (former) social studies teacher, I intensely loved his Lies My Teacher Told Me: Everything Your American History Textbook Got Wrong. His book, Sundown Towns: A Hidden Dimension of American Racism, taught me that the town I grew up in was a sundown town! As a lover of American monuments, I very much appreciated his Lies Across America: What Our Historic Sites Get Wrong. As a mother, I am crazy-amazed by his adventurous spirit and joie d vie, and I wish our family could have gone with him on his canoe adventures, Up a Creek, With a Paddle: Tales of Canoeing and Life.
I will mention one of his pieces of advice that I use often.  It was at a teachers' workshop in Urbana, Illinois.  One of the participants asked how to deal with the hard truth of history in high school and middle school classes.  Jim suggested that the teacher first tell the students that many adults say that they are not mature enough to hear the truth.  Then ask them if they think they are.  It worked in my class.  My students immediately felt engaged.
I will miss Jim's brilliance, and also his jokes and his encouragement to try very weird food: clams from our South Carolina lake, bamboo from his yard, and squirrel from anywhere. 
I am honored to have seen the good results of his good trouble.  I treasure his efforts on behalf of truth and racial justice, and I will never forget his friendship.  The fan club continues.
—Georganne Burton
*****
Five years ago I was in New York and had an opportunity to visit the American Museum of Natural History. As I approached the building I saw the monument to Teddy Roosevelt and was pretty shocked. I Googled the image and discovered Professor Loewen. I then read several of his books. To say I learned a lot is a big understatement.
The past few years have seen some of the most offensive monuments come down. I'm glad that Professor Loewen was able to witness some of this reckoning with America's past before he passed away.
May the good memories he left be a blessing for his family and students.
–Paul L. Newman (Merion Station, PA)
*****
I met Professor Loewen just once. Though he was already quite ill he invited me to his DC home to discuss a piece I was working on about a little-known Confederate monument in my town. I was, to him, a complete stranger. We had only corresponded a few times via email. I'm neither an historian nor college professor. I teach 4th grade and do most of my writing during summer break. Despite my lack of credentials, Jim graciously gave me some of his truly precious time—to listen and encourage. He didn't have to do talk with me, but he did, because that's what great educators do. They take the time. He will be missed, but his work goes on and even 4th grade teachers can help advance his cause for an honest accounting of US history. 
–Dave Airozo (Silver Spring, MD)

*****
While Jim Loewen is best known as an author and a scholar, he was many other things as well. For me he was a mentor, tutoring me in the techniques of statistical analysis that I could use to analyze election results to help prove racial bloc voting in voting rights cases. He also was a scholar who was not confined by disciplinary boundaries. Jim was unafraid to examine historical data to expose the racist basis of contemporary social structures. His analysis of American history always placed strong emphasis on "the nadir"–the period from the 1890s to 1920s when racism became deeply entrenched in all regions of the United States. While Jim was angry about the ways in which history was taught, he never lost his quirky sense of humor. Jim, we will miss you.
—
Paul Murray, 
Professor Emeritus of Sociology, 
Siena College (
Loudonville, NY)
Lies My Teacher Told Me was a bold book.  I read it with community college students, who were blown away by Loewen's bluntness, the facts he assembled, and the arguments he made.  It made the teaching of U.S history ever so much more powerful.
Lies Across America inspired my own writing in local history, with its scrupulous documentation of what was left out of local stories.
Thank you James Loewen.
—Lauren Coodley (author of Lost Napa Valley (and 3 other histories of Napa) and a biography of Upton Sinclair, published by University of Nebraska, 2019)
*****
Though I never had the opportunity to meet Jim, I am immensely grateful to have come across his work and to have briefly spoken with him before he passed.
I am a visual artist and discovered Jim's work while researching my most recent project, Sed Valorem, which addresses property tax discrimination. One of the installation's artworks is titled Tax Comp. (after Loewen), and compares two properties, one occupied by Black homeowners, another by Whites, which have dramatic disparities in their assessment and tax values. The piece was inspired by and pays homage to Jim's important work in the 60's around the federal class-action lawsuit Bland v. McHann. In the suit, Black residents of Edwards, Mississippi saw their property taxes dramatically increased after a successful economic boycott of the town's racist White businesses. Jim contributed to the case by documenting homes in the town with equal assessment values owned by Black and White residents. He presented these summaries to third-party appraisers who uniformly valued the White-owned homes over their Black-owned equivalents, often by significant margins — demonstrating that in a fair system, the White property owners would have paid much higher property taxes than their Black counterparts.
My homage uses copies of the images Jim took for the lawsuit in '67. The piece can be viewed at this link:
mattress.org/works/sed-valorem
. I am sad I was unable to share the piece with Jim before his passing, but hope this work might act as a small addition to his great legacy.
–Harrison Smith (Pittsburgh, PA)
*****
Have been so happy to share the work of James Loewen with my students and my colleagues.  His work is a blessing to this nation as it equips us to pay attention to the historical stonework that has supported this structure of inequality and its practices of exploitation and exclusion.  He represents the power of knowledge to make a change.  I will continue my own work with a spirit of honoring his memory. 
–Cheryl Townsend Gilkes
*****
I once "Googled" James Loewen in search of a phone number to ask if I could book him to speak to my students at my high school because I have assigned my students, "Lies My Teacher Told Me" as a summer reading over the last 15 years. 
I expected to speak to his publicist. But to my surprise and absolute delight, Mr. Loewen picked up the phone himself and we had such a wonderful conversation. I was thrilled.
He made himself available to everyone! This is what made him special. 
–Nora Mocarski
*****
I learned so much from Jim about using local archives as a way to unearth and tell stories about our American history–all of it. He visited Denison over 5 years ago and delivered an address for MLK Day that was as much a lecture as it was a planning meeting, setting an agenda for everyone present to go, seek, and learn about their own places, their own histories. And he wasn't asking folks to do this work for the sake of the work, but with a vision that if we can tell a more complete history of this country, we can become more inclusive and empowered and truly democratic. He was a gem. 
–Jack Shuler, Professor of Journalism, Denison University
*****
I first met Jim in 2003 at the Conference on Illinois History held in Springfield.  We met again around 2007, when he was a guest speaker for the Teaching American History Grant Project for the Flint (Michigan) Public Schools;  I introduced him in my role as the Lead Historian for the project.  
Our paths also crossed at the annual conferences of the OAH, which were held in various locales.
He was a lively and informative speaker, and his book on Sundown Towns, were part of the required readings for my HIS 221 class.
–Gregory M. Havrilcsak, Dept. of History, University of Michigan, Flint
*****
I had the pleasure of hosting Dr. Loewen at our Museum in September 2007 for a series of presentations at the Museum and Illinois State University related to his book Sundown Towns. I was very sorry to learn yesterday of Dr. Loewen's passing, which is truly a loss for us all. His work was so important and impacted my life in so many ways. His programs were powerful and transformative. I learned so much about the dark chapters of Illinois history that I had no idea about (being almost a lifelong resident of Illinois myself). I have read several of his books (including Sundown Towns, Lies Across America, and the Neo Confederate Reader) and they truly influenced my career as a Museum educator in many positive ways. I am thankful I got to work with him and learn from him (and enjoy a lunch with him at one of his hometown favorites Steak n Shake).  I had hoped to have him back at the Museum again one day, and I am sad that I never got the chance. I feel that his work is even more important more than ever in these trying and tumultuous times that are filled with so much misinformation and people still trying to whitewash our history.
–Candace Summers,
Director of Community Education,
McLean County Museum of History, Bloomington, IL.
*****
When you combine a naive CNN reporter and a very, very busy historian, you could have the makings of a very quick phone conversation. But of course, that historian was Dr. James W. Loewen and I was calling him about a subject he knew pretty well and I pretty much didn't. Is he patient with everyone who cold calls him? How many reporters have gotten an initial "hmph" when you can't answer his simple history questions followed by an impassioned, deliciously rich explanation of everything you've missed in your 16+ years of schooling?
I was so fortunate to get to talk to him for a project on racially-charged massacres. His help over those weeks was immeasurable. I was lucky enough to get invited to his newsletter – what a special circle to which I sadly arrived late. I'm even more fortunate that his book "Sundown Towns" inspired me so long ago, showing all of us that getting out there in the world, talking to folks from town to town and telling the real history of our country is a worthy endeavor and one that still needs doing.
–Channon Hodge, Producer/CNN
*****
I was saddened to hear of Jim's passing.  We were honored to host Jim and Susan when they visited our facility back in 2015 to see our Scottsboro Boys exhibit and our Civil War in Morgan County exhibit.  They were gracious and fascinating guests.  To say I have admired Jim's work is an understatement.  The fruits of his efforts to promote a better understanding of our past are everywhere in the South today.  That he made a special visit to see our exhibits is one of the highlights of my professional career.  My sympathies go out to his family and friends.
–John Allison
*****
I am an Associate Professor of Counseling/Education at Trinity Washington University in Washington, D.C. Also, Dr. Loewen and I are fellow Unitarians and attend All Souls in D.C.
A few years ago, when I was teaching the Cultural Diversity graduate course for educators and using the book Lies My Teacher Told Me, I was receiving some push-back from a group of students who were public school teachers. This group of teachers claimed that they did not have the time nor the support to challenge the curriculum that they were given. They were not able to deal with the cognitive dissonance that they were experiencing in the course.
I contacted Dr. Loewen, and asked for his advice and input, in fact I asked him to be a guest presenter in the course. He agreed to come without hesitation. The students were surprised to find the author of one of their textbooks in their class that evening. He listened to their complaints and insistence that they cannot add lessons to the curriculum. Dr. Loewen challenged the accuracy of their statements because he knew the school district where they taught. And then he asked a profound question. "If what you say is true, why should we pay you a salary to teach, would it not be cheaper to put a robot in to teach and just program the robot to teach the same old lies?" Needless to say, I did not experience any more resistance from these students.
I am a better social justice professor because of Dr. Loewen, and I will keep his legacy alive. 
–Cynthia B. Greer
*****
As a Tougaloo undergraduate in the 1970's, Jim made a "huge" impression on this young student from a small, provincial, violent, and rural town in southwest Mississippi. He made me think about a different world without the overwhelmingly negative racial segregation under which I had lived all of my life! We worked together trying to establish (funding: we made personal requests to Ames descendants) the Ernst Borinski and Adelbert Ames Endowed Teaching Chairs. Of course, he gave me sage advice in my Junior year as I contemplated entering graduate school. It is not surprising that I also took my Ph. D. in sociology from Harvard.
Most importantly, I remember three important events out of many "Jim events":
In my Sophomore year, I was chosen to represent Tougaloo College's Sociology Department on a student panel session regarding introductory sociology courses (of course, I was the only Black student and HBCU person on the session) at the annual American Sociological Association in New Orleans, Louisiana. We traveled from Mississippi to Louisiana in a snazzy red sports car with his colleague from Brown;
Doing Mississippi Educational Television fieldwork or data collection for extra credit in our required statistics and research methods course as well registering and surveying Canton– Madison County (Mississippi) Black citizens;
Poll watching in the middle of a hostile white former plantation in Madison County (Mississippi) with a Tougaloo History Professor who was arrested on trumped up causes, again for extra credit in the same course.
All three are indications of the rich academic experiences provided by Loewen. HE WAS FANTASTIC!!!
–Donald Cunnigen, PhD
*****
We had coffee together at the Library of Congress when you were doing research on Lies Across America. (I was honored to be mentioned in your book when it was published.) We talked about landmarks being a window through which we view history. You taught me about Sundown Towns. It was always enlightening to hear your comments about Friday's Labor Folklore, racial justice, Confederate monuments — I always looked forward to your emails. We bumped into each other at the Greenbelt Theater and you grabbed my arm and told me about your illness. So many of your students and colleagues are saddened today; we carry with us the inspiration of your teaching.
–Saul Schniderman
*****
A couple of years into my career as a social studies teacher, I was fortunate to attend a conference where James Loewen was the keynote speaker. He talked about the importance of teaching history, TRUE history, both the good & the bad with an honest lens. He taught me that my education & the textbooks I had been using were biased to tell a one sided version of history. He instantly became my new hero & I waited in line after his speech to buy every book & meet him. Mr. Loewen's books, along with a few other additions, replaced my textbooks that year & I completely revamped my curriculum. Luckily, I was able to meet him again at the White Privilege Conference a couple of years ago & thank him for his work. I would not be the person or teacher I am today without his teaching. Sadly, we also talked about his diagnosis & his plans for his work to continue. I know I am one of many that will honor his legacy & continue his work!
–Carrie Jacobs, teacher
*****
Like most people, I "met" Jim Loewen through his books. I met Jim in person in 2013, just after I had completed my book Exhibiting Patriotism: Creating and Contesting Interpretations of American Historic Sites, and it was a memorable meeting. I was doing research for my next book in Washington, D.C., and he suggested that we meet in front of the A. Philip Randolph statue in Union Station. It could not have been a more appropriate place to meet James Loewen. We spent the next hour and half at a local diner sharing stories about our research and how it was needed now more than ever. It was an important meeting for me because Jim was an author who laid the groundwork for so many of us doing research in public memory. Jim was very generous with his time and sharing so many insights into his experiences. Getting the chance to meet another author whose work inspires me, was just a wonderful and memorable experience.
–Teresa Bergman, Ph.D., Professor and Chair, Department of Communication, University of the Pacific
*****
Like thousands of people, I was deeply saddened by the news of Jim Loewen's death. I had discovered his work only a few years before getting an opportunity to meet him in 2018. Along with colleagues at the University of Virginia, I had invited a diverse group of researchers and others (local elected officials, advocates, people working on community sites) to help us as we began putting together a toolkit for institutions and communities seeking to change problematic community spaces (monuments, spaces with histories of violence, contaminated sites). Jim very generously agreed to participate not in some specialized status, which his work and career had certainly earned, but as another member of the group; perhaps his interest was piqued by our location in Charlottesville, site of the 2017 Unite the Right rally. One of many highlights was the dinner that we had after a day of meeting, where Jim and others were able to share anecdotes and stories and aspirations. He was inspiring, erudite, a good listener, and full of energy. Our still somewhat incomplete website in no way reflects his genius, but you may find it at
transformingcommunityspaces.org
.
–Frank Dukes, Institute for Engagement & Negotiation, University of Virginia
*****
When I moved to New Orleans in 2014, I was somewhat astounded by the many Confederate monuments and remembrances throughout the city. I quickly discovered that the Lost Cause was on steroids in New Orleans. As a former military leader, I felt compelled to do something.
I quickly learned however that I was a Lone Ranger in this effort- until I discovered Dr. Loewen. After reading two of his books I decided to contact him. He became an ally, mentor, and friend.
While I had a pretty fair understanding of the history of the Confederacy and why Confederate monuments were erected, Dr. Loewen armed me for battle with this issue. There was no disputing the facts in his books. And in my correspondence with him – I knew every argument that I would face in the public debate over monument removal.
In the late spring of 2015 when a white supremacist murdered 9 black church members in 2015 this country began a reckoning with our Confederate past. But actually Dr Loewen had been playing a major part in it for decades. He lay a major piece of the groundwork.
When our mayor Mitch Landrieu began the public debate in New Orleans after the SC murders, I introduced him to Dr. Loewen's work and eventually to Dr. Loewen himself. Make no mistake, Dr. Loewen's work and public support aided our efforts in New Orleans and the rest of the country.
I have heard Dr Loewen referred to as an academic, an historian, a sociologist. These terms all grossly miss the mark. Dr. Loewen was a leader with one hell of a lot of courage. He stood up for truth and racial decency long before it was fashionable. Dr Loewen was "woke" decades before anyone ever thought of the term.
While we had many instances of correspondence over the last 6 years. We physically met only once. We had lunch once at a pizza shop at Union Station in D.C. He insisted that I call him Jim. I had so much respect and reverence for him, I simply couldn't.
As a former career military officer and F/A-18 pilot I witnessed many acts of courage. But the courage it takes for a white man to teach at a black college in Jackson Mississippi in the 60s? The courage it takes to speak out about false allegiance to the historical inaccuracies of the Lost Cause in the 60s in a state where lynchings were still taking place? Dr. Loewen was one of the most courageous men I ever knew.
I will forever be proud that he was my friend.
–Richard A. Westmoreland, Lieutenant Colonel USMC (retired)
*****
I never met Professor Loewen in person, but I got the chance to talk with him last year after George Floyd's murder. I used his research as a building block to remove the name of a person who was affiliated with the KKK from a local elementary school. We succeeded after some time and I owe it to the work that he compiled over all of these years.
The thing that strikes me the most is how much interest he maintained on the subject and how he persevered after all of those years. Truly a testament to the drive and will of a man who wants to see the world become a better place.
I am saddened that I will never get the chance to meet him in person, but I will share his legacy until the day that I die.
–Emmanuel Lopez, University of California, Berkeley
*****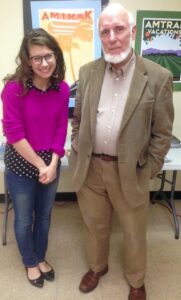 Dr. James Loewen came out of his way from Chicago to meet with me in Detroit because I expressed interest in helping with his website. He said he never flew, he would only travel by train. His presence felt historical, and his knowledge was profound. You left an amazing legacy of work. Thank you. I look up to your work.
–Jessica Little, Detroit, MI
*****
It was my honor to meet Mr. Loewen at the White Privilege Conference in 2019. I had been only mildly aware of his work prior to then and decided last minute to pay for the celebrity luncheon with him as the celeb. At that event, he shared snippets of his work as well as that this would be his last conference due to his illness.
Because of that lunch, I skipped the other lectures I had intended on attending that afternoon and instead spent several hours in 2-3 of his lectures. I'm so grateful to have not only heard his vast knowledge and life's work firsthand, but also to have felt his energy and passion up close. His directness, clarity, urgency, humor…all of it fired us up to keep doing this work of truthtelling and healing.
I'm so grateful for that time with him. And I'm grateful for those of you so committed to continuing his life's work. That no doubt brought him so much peace.
–Ellen Sauer, Fort Wayne, IN
*****
Dr. Loewen's Sundown Towns transformed my view of myself, the American North, and the United States.
As a countercartographer researching Vermont's racist past, I wrote Dr. Loewen with a research question. His prompt response, even in poor health (I only recently discovered), sent me on a journey. I don't know where this journey will lead, but so far it has already led me to create a map unlike any other and will soon be published. I only regret he will never see it.
As a former high school Social Studies teacher, Dr. Loewen's Lies My Teacher Told Me was invaluable. In fact, I began to measure my success as a teacher by how much trouble I found myself in with parents angry over my not serving up the all-too-common Whitewashed history they'd received themselves as students.
A generous intellectual, a prolific researcher, and a courageous activist, Dr. James Loewen will be sorely missed.
–Brad Houk, White River Junction, Vermont
*****
We need a new book to commemorate the life and work of Jim Loewen. May I suggest a title? Truths Our Teachers Told Us!
–Alan J. Singer, Hofstra University
*****
I met Jim through the Washington D.C. think tank circuit, of which he was an enthusiastic participant. I came to appreciate that whenever he contributed a comment to the discussion it would be trenchant observation, raising a point about racial or economic justice that needed to be said to shake up the hitherto constrained and cramped discussion. Jim's "Sundown Towns" was a brilliant and provocative account of our nation's sordid racial history, vividly told in order to reach a small-d democratic audience . I always enjoyed Jim's company. I consider him to have been my teacher and tutor, on housing issues in particular, and I will miss him enormously.
–Richard Kahlenberg, senior fellow, The Century Foundation
*****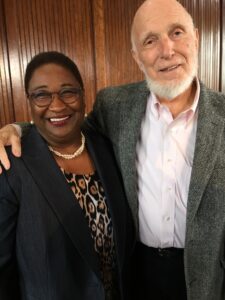 I enrolled at Tougaloo College in January, 1971, as a shy 17 year old from a small t
own, who had no idea of what I wanted to be when I grew up. I selected a Sociology course as an elective and was hooked. Jim Loewen made his courses alive and relevant an
d Sociology became my major. He was instrumental in my being selected for a graduate assistantship that made it possible for me to re
ceive a master's degree in that field. I am proud to have known him and so glad that we reconnected and exchanged several phone calls and emails during the last f
ew years. I was especially glad that I got to see him in 2019 at Tougaloo during Founders' Day observance. His quest for equality and his selflessness are greatly app
reciated.
—Pat Whitlock
*****
I had the pleasure of interacting with Jim Loewen during my tenure as a member of the Board of Trustees, and later as Interim President, of my beloved alma mater, Tougaloo College. I was singularly impressed by his profound commitment to the College and his love of truth. The former is demonstrated explicitly by the endowed chair which he set up at Tougaloo, and the latter in his writings. I am particularly proud of the fact that when he learned that I was born and spent my early childhood in a Mississippi Sundown Town, he presented me with a copy of an uncorrected proof of his book, Sundown Towns, for my review and comments. It still occupies a prominent spot in my library, along with Lies My Teacher Told Me, and Lies Across America.
–Edgar E. Smith, PhD, Professor Emeritus, Biochemistry and Molecular Biology, University of Massachusetts Medical School, Vice President for Academic Affairs (Ret.), University of Massachusetts System
*****
In 2016, I was given the opportunity to organize an educators' conference. A longtime fan, having read "Lies My Teacher Told Me" many years earlier, I couldn't wait to book Dr. Loewen as my keynote. Because air travel and car rental in Wyoming can be a challenge, I agreed to pick up Dr. Loewen at an airport 90 miles away, bring him to the conference, and drive him back to another airport 120 miles in a different direction the next day. It was one of the highlights of my life to have been able to spend so much time alone with my hero – a history MVP for all time – and pick his brain, learn more about him, bounce ideas, and come away even more inspired to carry on his work in my own small way. We also took the time on each leg to stop and buy an ice cream cone, a favorite of his. Memories of a great soul I will always cherish.
—Rob Black, Cheyenne, Wyoming
*****
Jim Loewen played a seminal role in the Philippine Study Group of Minnesota's successful campaign to correct an historically inaccurate, racist, and offensive plaque in the Minnesota Capitol Rotunda. The original plaque commemorated what had been falsely called the "Spanish-American War," but in fact was a jaundiced depiction of a brutal war against Filipinos that quashed a vibrant independence movement. After 8 years of mobilizing support within the Filipino community and state legislature, we installed a corrective plaque designed by artist Anne Klefstad, immediately below the offending commemorative.
Jim was one of the first scholars we contacted, because we were familiar with his book, Lies My Teacher Told Me. He is one of those rare experts who values the efforts of community initiatives like ours. He believed the evidence and analysis we put forward, even as he encouraged us to uphold a high standard of integrity and accuracy. Then, he featured our campaign in his next book, Lies Across America (pp. 136–143), giving our work national visibility.
In the end, what made us successful was following Jim's approach: gathering documentation that portrayed a more accurate version of the history of the era. PSGM members pored through the historical archives and located letters written home by the Minnesota volunteer soldiers who had been sent to the Philippines. Although they left home eager to protect democracy, they soon learned that was not the mission they had been assigned. Rather, they were pawns in an effort by the US government to wrestle control of the Philippines in order to build an empire. Their own anguished comments to relatives back home made their frustrations abundantly clear. After reading their letters, the state Adjutant General supported our endeavor.
Jim Loewen was an astute scholar who also made a critical difference in communities as well as the historical record. We will miss you, Jim.
—Meg Layese, Chair of PSGM
—Paul Bloom, PSGM member
—Ken Meter, PSGM member
(PSGM is a community of Filipino-Americans and friends committed to supporting the struggle for justice, peace and human rights in the Philippines. PSGM is committed to communicating the history of US relations with the Philippines to a public that is generally uninformed.) 
*****
One night about 20 years ago, I drove to Urbana, to see Jim Loewen speak at Allen Hall. Like so many other people I'd read Lies My Teacher Told Me. And I wanted to go hear from the man who wrote that book… the man who chased me away from graduate school.
I was a TA at Ohio State when I read Lies My Teacher Told Me, and it gave me all the context I'd been lacking for understanding what was going on with my students. They'd received such a terrible history education in high school – and before – that we'd already lost most of them. It left me seriously questioning the entire education process, and what my place in it could or should be.
He was there as a scholar-in-residence for a week, working on what would become Sundown Towns. Much of his talk focused on the prevalence of sundown towns in Illinois. We were in Urbana, I lived in Normal, I'd grown up in Rockford, I'd done my master's thesis on Centralia, he'd grown up in Decatur… I mean, we had the state covered! And so many of his observations provided context for how I understood so much of Illinois to be. This was one of his special gifts, as a writer and as a lecturer: He could fill in gaps you didn't know were gaps. Whatever else he might ostensibly be writing or talking about, it always felt relevant, visceral, to me, to my immediate surroundings.
Of all the things he talked about that night, though, the thing I remember best is a story about an experiment he conducted with jis sociology students at the University of Vermont. They would load into one of two cars – a luxury car, maybe a BMW, and an old clunker. And they would drive around Burlington. And they'd stop at red lights. And then when they lights turned green, they wouldn't go. They'd start a stopwatch instead, and time how long it would take to get honked. On average, other cars honked the beater much faster than they honked the beamer.
There were three takeaways of his story. One, which you might spin a little bit differently, is that people have far more patience for the wealthy than they have for the poor. Another, which was less a takeaway than a directive, was him telling us that if we see a luxury car not moving at a green light, honk 'em!
The third takeaway, of course, is that here was this famous professor and author, inexplicably using the word honk as a transitive verb!
And while a celebration of life may be an odd place to bring up the use of transitive verbs… I think for him it makes perfect sense. He was a transitive man! Insatiably curious, constantly buzzing, fiercely devoted to social justice. And yet also, critically, a man who understood how to laugh, including at himself. Curiosity, action, justice, laughter, these things all fit together. What, after all, is "Honk 'em!", but another way of imploring people to speak truth to power? And as for laughing at himself, I mean, here was a guy whose website featured a database of sundown towns… and at the very top of the front page, the first words you read are:
Something Has Gone Very Wrong… The Homepage of James W. Loewen
Many years went by after I met him that night in Urbana. And at some point, I reached out. For lack of a better way to put it, I was at a point where I wanted to participate in something bigger than me, and I felt he was whom I needed to connect with. It was from that reaching out that I got involved in the website. It was truly an honor to have done what work I could for him: which was, of course, work for everyone.
From that point forward I had the opportunity to visit with him and Susan numerous times. He was always so gracious, as interested in what you were doing as in what he was doing, even when he was doing things like convincing America to take down those monuments and you were doing… not quite that!
For me, he will always remain an inspiration. Certainly his work is and has been inspiring for decades, and, I believe, will continue to resonate for many decades to come. But I think what will stay with me most is his mien, his constant positive demeanor, his contagious optimistic attitude. Recent years in America might not be considered a new era of good feelings. But when so many other people I know have felt doom and despair, Jim saw real progress and felt real hope. More than once, at times when he was sick, he uplifted me, just by focusing on how much is going right. I hope I can take that example and do the same for others.
Yes, as with literally millions of people, I learned a lot from his books. But I was also exceedingly fortunate to learn even more from the man himself, not just about history and justice, but also about how to carry myself day to day. A lot of these are lessons I'll impart to my son, not the least of which will be:
Honk 'em!
–Phil Huckelberry 
Jim and I arrived at UVM at the same time in 1975. He already had published two books, the latter his controversial text on Mississippi history. Very quickly I was to learn that conflict followed Jim Loewen wherever he went. Conflict that he embraced, indeed seemed to encourage.
I will leave it to others to recount in detail his important contributions to the understanding of social inequality – especially race inequality – in the U.S. through his books like the best-selling Lies My Teacher Told Me, his court appearances as an expert witness in dozens of civil rights and voting rights cases, and his numerous public lectures on the U.S.'s troubled racial past and present.
Here I will focus on what I remember as some of the important ways during his 20 years at UVM that Jim directly impacted our students as well as the rest of the UVM community. The first is his teaching of race relations. While courses on race had been taught before Jim's arrival, no one taught race the way Jim did. Probably his most singular contribution was to shed light on Kake Walk, at UVM, exposing the bad and the ugly, along with the perceived good of this racist tradition of Kake Walk in which white male students dressed up for a mock dance contest as minstrels in blackface. Jim brought to light this shameful aspect of UVM history in the classroom with his students, and also in a 1991 essay, where he explained that, although the Burlington area had benefitted economically and even experienced a sense of community through Kake Walk weekend, it was at the expense of perpetuating racist stereotypes. A decades-long perpetuation of racist stereotypes that wasn't abolished until 1969, well after the Civil Rights movement had begun.
A second area where Jim made an important contribution to UVM was in his Introduction to Sociology course in which he presented, among other things, a series of in-class exercises to teach students the benefits of sociology over what passes for common sense, exercises that were published in the journal Teaching Sociology. One that had a profound impact on me and my own teaching focused on the relationship between formal education among adults and attitudes toward the Vietnam War circa 1970. How does education affect war attitudes Jim would ask innocently, and the vast majority would answer that the more educated one was, the more likely s/he would be against the war. After soliciting a variety of seemingly plausible reasons for the connection, which usually included reference to college student protests at the time, Jim would then share Gallup polling data that showed just the opposite: Among adults 25 and older, more schooling meant more support for the war. Exploring possible reasons for the actual facts – the economic benefits of the war for the well- educated, the greater likelihood of poorly educated individuals to be drafted and die in the war, leaving behind families that saw only the horror of the war, etc. – taught his students an important lesson in using facts and the scientific method rather than what seems to pass for common sense.
A final teaching example comes from a four-credit methods/statistics course that Jim and I jointly developed in 1984 and which continues to be taught today in one form or another. One innovation of the course was The Burlington Area Survey for which our students interviewed residents and analyzed the results of those interviews for class credit and later for a report submitted to City Hall. Jim's insistence on including questions related to Burlington's economic, political and social landscape helped sensitize our students to a perspective on Burlington residents that was missing in their lives, especially during the first semester when we focused on the Old North End, an area where many of our students lived but didn't really know. Even when he was teaching methods and "how-to's," Jim was living his role as the social conscience of UVM.
And that's how I'll remember him: As our social conscience. Whether it was teaching life lessons to our students about race and inequality or arguing about diversity in faculty hiring and student admissions, Jim Loewen never had an "off" switch with regard to social injustice writ both large and small. His striving for social justice was not just a part of his day job. It was who he was – his manner often contrary, but always sincere and offered up with his own whimsical sense of humor.
Jim Loewen's 20 years here helped make UVM a better institution.
–Nick Danigelis, Professor Emeritus of Sociology, University of Vermont
*****
How I will miss my dear friend, Jim Loewen! 
I met Jim in 1980 in Charleston, S.C. where we were working on a court case involving the voting rights act in that state.  He was amazingly successful at communicating in the court room with judges and defendants in civil rights and voting rights cases.  Loewen literally was the inventor of social science statistical measures of discrimination and quantitative techniques to prove racial bloc voting; in other words, we could then win the courtroom battles.  He worked with minority plaintiffs in 50 class-action lawsuits, which, according to his expert testimony, fought laws and regulations that victimized people in civil rights, voting rights and job discrimination cases.
We became fast friends.  He and I continued our collaborations as expert witnesses for minority plaintiffs, and we also co-authored essays, participated in conferences and workshops together, and had planned to do a co-authored revised version of his classic Social Scientist in the Courtroom. 
Jim was a scholar of many and varied talents. He achieved considerable renown as an indefatigable gadfly, both generous and cantankerous, attacking the falsification of American history in our textbooks and at our historical sites.  He had a unique background of strengths in sociology, race relations, and social science techniques, and he truly knew the subject of race relations in America.  He studied white people, Black people, Native Americans, Latinos, and Chinese Americans.  A warrior for truth, he was never afraid to address real issues. 
Wherever I taught, I invited Jim as a guest speaker.  He knew how to engage with the public, and especially with teachers and students.  Jim wanted teachers to be effective advocates for truth in social studies.  Audiences took hold of his zeal, and students were inspired to seek out the truth for social and racial justice.
Lies My Teacher Told Me is probably the best-selling book by a sociologist.  Loewen reached something of a cult or legendary status among high school history teachers.  But more than that, he moved into the status of a public intellectual.  In addition to superb scholarly credentials and well-constructed research projects from which he authored books and public presentations, Jim was always in the process of stimulating the exchange of ideas and dialogue among different disciplines and scholars.  And, he always addressed his scholarship toward matters of significant public policy.  Trained and experienced in using both traditional historical research methods and quantitative methodology and modeling, Jim was also effective in using the participant-observer methodology.  He often teased me that history was just a bunch of facts without theory or meaning, while I retorted sociology was only theory without any basis of evidence.  His work in testifying to government commissions, his interviews on National Public Radio, on TV, and his work with the National Park Service, all show that his ability to communicate his research and his ideas went beyond the normal scholarly publications.
A person of total integrity, he was without pretense.  He provoked and challenged in the best sense of the scholarly community.  He dismantled fictions and exposed towns for excluding minorities.  He invigorated teachers and historians to quit dumbing down lessons.  No one was better at encouraging creativity while pursuing clarity.  He had a profound positive influence upon American education in the broadest meaning of the word, encouraging a never-ending willingness to keep learning.
One of our last projects together was a conference on "Lincoln's Unfinished Work," where we concluded the conference with a co-taught workshop for public school teachers on how to teach about the difficult history of race relations.  In both this workshop, and in Jim's presentation on an academic panel at Clemson, and the article in the book from the conference, mentioned the statue of Robert E. Lee.  It was Jim's tireless advocacy that helped to bring about the removal of that statue.  His essay is titled "Our Textbooks and Monuments Have Flattened Lincoln, Just When We Need Him the Most."  No one could ever flatten Jim Loewen.  And we lost him just when we need him the most.
Loved by his family and friends, admired by the public, Jim Loewen had a good life, a life of purpose and significance.  We will miss him, and so will the academic community and the U.S of A.  He made the world a better place.
—Vernon Burton, the Judge Matthew J. Perry, Jr. Distinguished Professor of History and Professor Computer Science, Clemson University, Emeritus University Distinguished Teacher/Scholar, University of Illinois at Urbana-Champaign
*****
Jim Loewen will forever have a place in my heart. We worked hard together, argued a lot, laughed a lot and wrote good history together. 
Rest in Peace and Power my dear friend, Jim.
–Jeanne Middleton Hairston, Mississippi: Conflict and Change

*****

I've been a major fan of Prof. Loewen for a long time, and have read all of his books (some of them many times). In fact, I had my well-read and slightly tattered copy of Lies My Teacher Told Me on my desk when I received your notice about his passing. Although I never met Mr. Loewen, I was truly saddened to learn of his passing.
About 6 months ago, I emailed Mr. Loewen after reading about the types of slow-moving airplanes that were purportedly used in the Tulsa Race Massacre in an old National Geographic, and posited to him that the anecdotal reports of these planes dropping kerosene-soaked bundles on the homes below were likely inaccurate. I explained that these airplanes could travel 155 MPH and felt it was unlikely that anyone could ignite kerosene in the open cockpits without setting themselves on fire as well. To my ultimate shock, surprise and delight, Mr. Loewen took the time to write me back and discuss the issue in the most scholarly and polite terms imaginable. He pointed out that although the airplanes could fly faster, they could also fly as slow as 55 MPH, making the theory plausible. Although I still don't completely agree, I respect Mr. Loewen immensely for taking the time to write me back and was gratified that my fandom for this individual was well placed.
In addition, Mr. Loewen subsequently asked me if I would consider helping him with sundown town empirical research in Oklahoma, and I was eager to help. My family has a visit to the Oklahoma Historical Center scheduled for September 13 when I intended to interview the curators about sundown towns and share this information with Mr. Loewen. I regret very much my inability to do this now, but I'm confident his important work will go on. 
Finally, the fact that Mr. Loewen took the time to correspond with me and plan for the future when he must have been in significant distress just humbles me. I'm sorry for your loss and hope this minor anecdote reflects my admiration and fondness for this intelligent, brave, articulate, wonderful man.
*****
Having read the book, Lies My Teacher Told Me, I brought James out to speak at two, perhaps, three assertiveness and leadership training sessions (sometime during 2010-2014) that I arranged for young, prospective Utah tribal leaders; when I served as director of Indian Affairs for the state of Utah. The intent was to expose tribal leaders to a bonafide author who sympathized with the plight of the native people, who had researched and published information favorable to native people, and contrary to the general misinformation which promoted stereotypes and negative perceptions of native people published prior to this time. James was perfect for this role and he performed it in grand fashion. The native people loved and appreciated him.
James and I became friends over the years. I stayed in touch with him and he visited our area a few years ago. It was good to visit with him and recall old times and the work we performed in promoting leadership among the Utah tribes. 
My heart goes out to Susan and all other members of James' family. James made a huge contribution to our country as he worked to help people heal from horrible trauma that the native people and other minorities suffer. Simply put, James Loewen made the world a better place! We have all been blessed to know and work with such a great humanitarian, not to mention he was simply a kind, and loving person.
–Forrest S. Cuch
I only met James Loewen once, when we spent an afternoon together at a conference, but he always asked the hard questions about the stories we tell about our country, and how they link past, present and future, and distort our future by repeating lies. I admired him greatly and I'll miss him.
–Paul Loeb (author of Soul of a Citizen)
*****
Many contributors have characterized Jim by claiming him as a colleague, a business partner, a racial justice warrior, a Unitarian Universalist and a friend. To further complete these sentiments, we want to add that Jim was considered a modern day John Brown as well. History is on his side.
—Deep and Kathy Ford
Jim Loewen was a stalwart hero in calling attention to the racism that we now all recognize as pervasive in America.  He and I became friends when he was teaching at the University of Vermont and working on Lies My Teacher Told Me.  As an Atlanta native, I had written about how racism impacted the early history of Coca-Cola in my book, For God, Country and Coca-Cola, and Jim and I talked about racism in Gone with the Wind, which famously premiered in 1939 in Atlanta, with Martin Luther King, Jr., only allowed to take part as a member of the "happy" black Sambo type member of a chorus.  Otherwise, no blacks were allowed at the premier.  Jim's work has continued to inspire.
–Mark Pendergast, writer
*****
In 1923, my 30-year-old grandfather was shot and killed in the lobby of his own hotel, while my grandmother and 2-year-old mother looked on.  Albert Berch, I believe, is the only Caucasian in history to be murdered for violating sundown laws.  10 days earlier, he had hired an African American, Robert Johnigan, to work (and live) as a porter in the hotel.  An angry mob in Marlow, Oklahoma, probably stirred by Klan leanings, killed Mr. Johnigan in addition to my grandfather.  Fifty years later, my mother began work on a book about the incident (never published), but when she died in 2011 at the age of 89, I found a correspondence file with letters going back and forth between her and Jim Loewen as they exchanged information about the murders.  In one of the letters, Jim told my mother to be on the lookout for his upcoming book on Sundown Towns.  Years later, I took up the banner, eventually publishing "Killing Albert Berch."  When I contacted Jim as part of my research, he picked up the conversation as though he had just left off with my mother, remembering many details about the murders.  We spoke several times during the process, and his contributions are referenced in my book.  He had a remarkable memory for detail, when I consider how many similar stories he heard over the years.  May he rest in peace after a life well-lived.
–Alan Berch Hollingsworth, MD
 *****
Professor Loewen's work has been an inspiration for me and my students for more than two decades.  American History was not my own research area and I had to connect with my students before we move on to studying Global History. We established that connection with "Lies My Teacher Told Me" which had a profound impact on me and I think I was able to share my enthusiasm with my students. Since our school is an Art and Architecture school, I thought it would be an even better idea to use "Lies Across America" . For a couple of semesters, I tried but could not convince students that it is an equally, if not more, resourceful text. They thought it was "too thick" as a textbook. I pushed back explaining there are more pages because of the photographs of the monuments, but could not convince them .  So, it became a "recommended text" as we continued using "Lies". At some point, several students told me I should use the "Lies" as a blueprint to write my own book on Global History. They thought that my teaching of Global History is pretty similar to "Lies". Oh well, I have always known that I learned from the best how to make history accessible to American students whose critical mind and creative thinking are urgently needed by the entire world. especially today more than ever. 
We did not lose a great mind; every day there are thousands of students who are still learning from him, finding their own voice with him in our never-ending quest to overcome lies of power.  
I have never met him, but he was my teacher, he still is teaching to my students. 
–
–
Kumru Toktamis, Associate Professor, Social Science and C
ultural Studies, Pratt Institute
*****
I first encountered Jim through his book, Lies My Teacher Told Me, as I struggled to live up to my role as the founding Director of the Jim Crow Museum of Racist Memorabilia at Ferris State University. I read Lies Across America and Sundown Towns.  I am profoundly grateful that he accepted my invitation to come to Ferris State University to present a keynote address to the state-wide Equity in the Classroom Conference in 2008. His two Lies books turned out to be the best to recommend to visitors to the museum who wanted to know where to go from that experience. He opened my eyes and focused all my presentations on calling out the lies we are drowning in.
He made the world better.
–John Thorp, PhD
*****
About two decades ago, I worked for Indianapolis Public Schools, one of the few in the nation with an Office of Multicultural Education. That office and its successor were run by a fearless woman named Pat Payne. Pat was familiar with James' Loewen's work and invited him to present at her annual Multicultural Infusion Conference. At the time, I was not familiar with him and his work, but I learned a lot that day. Years later, in 2016, I was back working as a journalist at the Anderson, Ind., Herald Buletin newspaper. I had decided to do an article on sundown towns after running into one in my personal genealogy. When I searched for information about all I could find was the work of James Loewen on the subject. Naturally I called him and spoke to him about that. I am grateful for this thoughtful and elusive body of work he has left behind.
–Rebecca Bibbs, reporter
*****
I met Jim and Susan Loewen at the 2019 OAH in Philadelphia. We had all signed up for the Chinatown Tour, led by a UPenn professor. We walked through what was left of Chinatown and learned about the rise and fall of an urban ethnic neighborhood, and then enjoyed a Dim Sum lunch. He told me that the best Chinese food he ever ate was in Mississippi. Through it all I was impressed by this soft-spoken, insightful historian with whom, I soon realized, I had much in common. I am grateful for that morning. His death on August 19 was too soon.
—David Hamilton Golland, PhD, Professor of History and Immediate Past President, Faculty Senate
Governors State University
*****
James was a trailblazer in his research regarding ethnic and racial cleansing in America. His work established a national understanding that regional historians used to document local instances of what happened across the United States. Without his contributions in that field, many people wouldn't have been able to give the complete context of how communities deported and excluded certain marginalized groups from living there.
— Cody McDevitt, Reporter and Author
*****
I had the privilege to meet Jim at an Aborigine seminar in Melbourne, Australia while I was an exchange teacher for a year in the International Teaching Fellowship Program in 1981. Jim was a Fulbright Scholar for 6 months from the University of Vermont where he was a Sociology Professor. He travelled with my 2 sons and I on several trips around Australia. I remember once he felt obligated, after taking a bus tour, to give a seminar on discrimination to the local bus drivers, After returning to the U.S., I continued to visit with Jim, either at his home in Burlington or a few times in the D.C. area while he was writing his famous book, Lies My Teacher Told Me. One time, we went to New York City and visited the newly renovated Statue of Liberty, where Jim quickly took out his notebook and started writing notes on his disagreements of the captions. I was always impressed with his knowledge and dedication to insuring that history was accurate.
–Joan Goodson (Baltimore)
*****
One of the best things about my many years at Illinois was the fact that Jim often visited. I had first known him from his terrific early book on Chinese migration to Mississippi. My kids, then I, devoured his LIES books. But above all he taught me about the sundown town environment I grew up in, and that how inspired research can make a difference.
–Dave Roediger, American Studies, University of Kansas
*****
I have had trouble finding the words to express my feelings regarding the passing of Dr. Loewen.
It was quite surreal to get this notice on the day that the statue of Robert E Lee was removed from Richmond. As a history major in school, the most important book I ever read was Lies My Teacher Told Me, I have purchased copies for all 5 of my Grandchildren as I wanted them to know the truth. The misconceptions that have been taught as "History" are truly amazing. Particularly found interesting the truth about Columbus, as my wife is Haitian, her family traces their history in Haiti over 300 years.
While we did not always agree on everything, Dr Loewen's work was life changing, often would send him articles about Sundown towns in California, yes California, my parents grew up in one, Taft, California.
My deepest condolences to his Family,
We have lost a Great Warrior for the truth.
–Steven Caldero
*****
I never met Jim Loewen, but his work has been helpful to me for at least twenty years. I use his work in classes with students, with friends, with anyone who's willing to think about our past and present. I still refer to his sundown towns website. And loved his twitter contribution to #wewwantmorehistory day last September, when he was dealing with medical challenges but still made a sign.
–Scott Hancock
*****
Jim contacted me about my hometown, Wausau, WI, a few years ago. He wondered if it was a Sundown Town. That question changed the way I looked at my hometown and I am forever grateful for his inquiry. He shall be missed.
–Jayne R. Beilke, PhD, Professor of Multicultural Education and Social Foundations of Education, Department of Educational Studies, Ball State University
*****
I was honored to have met Jim while at the home of Adam Fortunate Eagle.
As a Native American from a VA tribe, I am all too familiar with the Racial Integrity Act and the Pencil Genocide which took place against my ancestors.  The records that were altered and the documents that were destroyed, keep many of the VA tribes from obtaining Federal recognition to this day.
And unfortunately, Sundown towns are still very much alive and well.
Jim and I immediately bonded over Jim's life work, he will be missed dearly, but I am so happy to learn that his work will continue.
–Peggy Fontenot
*****
Years after publication of Jim Loewen's other landmark book, 1999's Lies Across America: What Our Historic Sites Get Wrong, he continued to influence the regrettable legacy of Orville L. Hubbard, the controversial longtime mayor of Dearborn, Michigan.
Lies had devoted several pages to a Hubbard statue that was erected at Dearborn's City Hall in 1989, mostly through the efforts of the mayor's longtime girlfriend and not directly connected with his well-deserved reputation as a racist. Hubbard, who once had flunkies distribute "Keep the Negroes Out of Dearborn" cards at polling places, declared after the Rosa Parks bus episode in 1955 that he supported "complete segregation, one million percent on all levels."
When the statue was re-erected on the grounds of a city-owned historical museum in 2017, Jim was instrumental in pressing the Dearborn Historical Commission to ensure that a properly contextualized marker be installed next to it. The Hubbard family removed the statue, along with the marker, a few days after the George Floyd murder in Minneapolis, but an egregiously misguided Michigan state historical marker continued to greet passers-by at the old City Hall. That sign, dating to 1985, described Hubbard as an "effective administrator … known for punctual trash collection," but failed to mention his racism.
Once again, largely because of Jim's encouragement, the Historical Commission eventually succeeded in persuading the owner of the former City Hall complex to remove the offending state marker.
More recently the city administration oversaw the renaming of a civic center ballroom that had memorialized Hubbard. Today there remain in Dearborn only a few other overt reminders of the man who had served 36 years as mayor despite – or, more likely, because of – his subtle and sometimes not-so-subtle appeals to racism.
–David Good
*****
I am retired from the CT State Department of Education. For eighteen years I chaired the New England Conference on Multicultural Education (NECME), at the time the largest regional conference on multicultural education in the country. I invited James Lowen to speak – TWICE – at the conference which attracted over 1,800 people. This included the last conference we held. I was in awe of him when we met. His work, Lies My Teacher Told Me, profoundly changed the field and the lives of so many educators. I found Jim to be very humble and down to earth, no airs about him. He spoke passionately and with authority, and sometimes with a touch of outrage. Clearly he was a social justice warrior. I am also Past President of the National Association for Multicultural Education (NAME). Jim spoke twice at our national conference and he was besieged by fans. His works will live on forever for their immense contribution to the field. He will be missed.
*****
I am a public historian working with history museums, historic sites, state and national parks, cultural museums, etc. to develop and curate exhibits and interpretive projects.
Though I'm currently based in Seattle, I grew up in NJ and spent much of my adult life on the east coast. I had never heard of a sundown town until I moved to Seattle and began working with the Northwest African American Museum here on an exhibition about Black workers at the WA Manhattan Project site of Hanford back in 2015. In my research for this exhibition and in speaking to some of the descendants of these workers, I learned that Kennewick, WA was formerly a sundown town – the first I had ever heard of such a thing. Although I was not surprised that sundown towns existed, I was deeply disturbed that, in all my years of education (even as a Black woman, even with a History degree partially focused on American History), not one class or course mentioned the phenomenon of sundown towns. Jim's book was immensely helpful for both my own education and for providing important context for the exhibition. So I am so very grateful for Jim's hard work, persistence and documentation of sundown towns and the harmful, dangerous environments they created (and still create) for Black people. Although I did not have the pleasure of meeting Jim when he visited Seattle, his presence is very much felt here still. His contributions are invaluable.
My deepest condolences to Jim's family, loved ones, and friends. The field has lost one of its best champions and I hope to see his work and legacy continued.
–Jackie Peterson
*****
Shortly before I found out about James Lowen's death, I was talking to my daughter about a conversation she'd had with another student in AP government. This other student was taking the class because she wanted to be an activist for social justice causes. The curriculum predictably trumpets the wisdom of Supreme Court justices and the brilliance of white racist government theorists. She found it disheartening and alienating; it was making her doubt her calling.
I said to my daughter, "You should recommend she read James Loewen!"
And my daughter said, "I already did!"
I reviewed a couple of Mr. Loewen's books over the years, but I don't think I ever spoke to him. I was surprised and honored to hear he had my contact information when he died. He's been a huge influence on my writing, and a model for what a writer and educator can and should be. In this country, education often seems to be aimed at keeping students ignorant and crushing their dreams. Mr. Loewen's books did the opposite of those things. He'll be sorely missed, but his words will live on. Rest in power.
–Noah Berlatsky, freelance writer
*****
I never had the pleasure of meeting James but we corresponded via email after one of my articles in The Chronicle of Higher Education triggered such a vitriolic backlash that the editor shut down the comments section. Jim was among the readers to send a note of support and we tried, in vain, to connect during one of his visits to New York. I am terribly saddened by news of his illness and passing but I am inspired by his courageous scholarship which is so very necessary at this critical juncture in the nation's history. Sending heartfelt condolences to Susan and all of his loved ones.
–Pamela Newkirk, Phd, author and NYU professor of journalism
I'm so happy to know that you are continuing this vital work, as well as collecting memories and events from the multitudes who've been touched by Jim's brilliance, his deep humanity, and his diligent ground-breaking work. I am one of those multitudes.
I've used Lies My Teacher Told Me in my own teaching for years, and that work inspired a spiral of students year-in and year-out to dig into their own experiences as students, and to discover, many for the first time, the terrible power schools had in shaping a triumphalist narrative—white supremacist, pro-war, predatory and exploitative—with concrete impacts on their consciousness and their behavior.
When Jim was in Chicago researching what would become Lies Across America, he stayed with Bernardine Dohrn, me, and our 3 kids in our little coach house for a few days. He was a delight to be with, and he entertained the kids with dazzling stories that turned the world upside down. Our favorite topic: the Haymarket Statue, erected to honor the police who had murdered workers during the fight for the 8-hour day, not the victims of police terror and the boss's law. The statue had been knocked down by an irate street car driver decades before, and toppled by the Weather Underground twice. Jim loved the fact that the statue is now unseen in public, barricaded behind brick walls at the Chicago Police Academy. That's fitting.
Jim would love this moment: statues coming down, slavers denounced, history broadly contested in schools and in the wider public square. We need him more than ever, and your work is an eloquent testament to the fact that while death has the power to end a life, it does not have the power to end a relationship: that's up to us.
Keep rising!
—William Ayers, Distinguished Professor of Education (retired), University of Illinois at Chicago
*****
I first came to know Jim's writing while in undergrad. I mentioned to a professor that I was considering teaching as a possible career path, even though my major was something like international relations or political science. He gave me a copy of Teaching What Really Happened with a comment to the effect of, "If you're serious, you ought to do it right." I was blown away by Jim's unapologetic, clear, sharp, focused critique of history education and ended up buying copies of that book for friends and former teachers. It was empowering and thought provoking – everything I would eventually know Jim to be.
Many years later, I attended the White Privilege Conference in Philadelphia, PA where Jim was to be presenting not only about his books, but also offering the latest in his research on Sundown Towns. It was the first time I'd met him in person, and his warm, energetic enthusiasm for progress and work was palpable. His Keynote, "Do Stuff!" still motivates me in my work. Maybe more amazing was the way in which he later hosted a hands-on workshop for investigating Sundown Towns. There was a moment in his workshop when the quite-large audience realized that his goal wasn't simply to share his findings, but more importantly, to empower us all to see ourselves as historians, analysts, and powerful agents of change. Not as the result of him (or anyone!) bestowing us with a power, but as a result of doing the work. Of being unafraid. Of working together. Of trusting our curiosity. Of staring the harm, violence, racism, and power with which we were all grappling, straight in the face and unblinkingly naming it. ("What happens after that, who knows? But we have to do the work!" I can still hear him say.)
I returned to my school on fire about empowering my students and colleagues with this hands-on, unflinching examination of primary sources, and a new lens. It led to many great projects and planning periods.
Many years after that – less than a year ago, in fact – I found myself as the director of a nonprofit in Nashville focused on teacher-led, teacher-designed workshops, collaboration, and support. We had been hosting Antiracist Teaching panels for a few years and I took a big leap of faith and sent an email to Dr. Loewen to see if he'd be interested and available to join us for the panel. I didn't expect a reply, because he's a really big deal and I imagined far too busy. I was wrong. Not only did he reply, but he said that he wanted to learn more and asked for a phone call. We spoke on the phone for more than an hour that first time, and covered quite a lot of ground.
He generously agreed to be a part of our panel and was as inspirational, engaged, and motivating on the panel as he had been on the phone, in his workshops, and in his books. He even wrote to me a couple of times after the event to offer to help with other programs and initiatives we were taking in the area.
Dr. Loewen helped me see how powerful we all are when we work together, commit to helping one another, and steadfastly combat racism and white supremacy. His work, his words, his example, and his impact provide me with inspiration regularly and I am so sad that he has left us. I cannot begin to describe how lucky I feel to have interacted with him. His warmth, kindness, encouragement, and openness to all were the only things bigger than his commitment to antiracist work and his resolute dedication to justice and the power of history.
Please know that Jim's flame shines brightly in my work and in our work, and we consider ourselves very fortunate for the ways in which he led and supported us and everyone.
—Greg O'Loughlin, Founding Director, The Educators' Cooperative
*****
thank you
and I'm so sorry for your loss
Your loss is a loss to all of us.
This man lit a fire under me that was already smoldering.
I will always admire him. 
Peace to you and yours.
—Carol Brown, I am the daughter of a woman who grew up in a sundown town (San Leandro, CA) 
*****
****
I interned for Dr. Loewen the summer of 2018 doing public history research for his upcoming 20 year re-release of Lies Across America: What Our Historic Sites Get Wrong. I also conducted brief research for him for his work on sundown towns at the start of my last semester at the University of Maryland College Park. That research included collecting census data on the race make-up of a few cities in Maryland. It was a pleasure interning for Dr. Loewen, I learned so much from him. Interning for him was one of the highlights of my college experience. I am so happy to hear about the continued developments of his work. His work is so important for the world.
—Diara Mahoro 
*****
I am shocked to hear about the passing of James Loewen and I want to send his family my sincere condolences.
I feel weird writing this, because Mr. Loewen and I only write an email back and fourth once. However, his answer to the email I once wrote to him last year really made my day, which is why I want to share it.
I have to note that I am a student from Germany and just graduated high school. During my senior year I started a project that was inspired by Mr. Loewen's book Lies My Teacher Told Me, which is why I sent him an email and asked whether he could give me any tips, hoping that he would answer me but really not expecting it.
But what happened one day later? He answered me! I was so excited because I did not expect that at all and he really made my day. His answer was super kind, and he even offered to look over my final draft to comment on it.
Even from this small interaction I realized what a big heart James Loewen had and I was truly sad when I heard that such a kindhearted human being passed away.