Jim Loewen gives hilarious and gripping talks on topics related to Lies My Teacher Told Me and Lies Across America, how to teach history/social studies better, and Sundown Towns. He is also experienced at leading workshops for in-service teachers, students in schools of education, and staff at historic sites. To have Jim Loewen speak at your community forum, K-12 school, school system, museum, or college:
Contact James Loewen directly: jloewen@uvm.edu
Contact James Loewen's excellent speaker agent: Speak Out!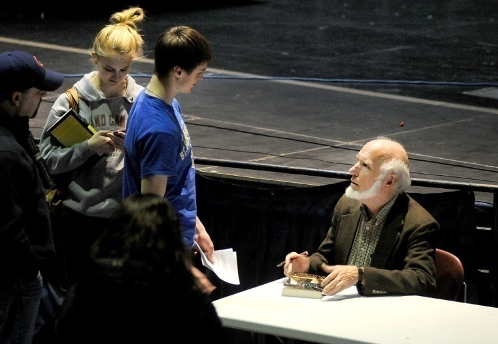 Jim Loewen signs books after talking in Appleton, Wisconsin, about the Nadir of race relations, when lynchings went to their all-time high. That era also spawned sundown towns — towns that for decades were (some still are) all-white on purpose. Appleton was such a town from c.1920 to c.1970. Now, however, some Appleton residents are taking steps to help it transcend its past and develop good race relations.
Campuswide, K-12, School System, or Community Talks
The following three titles all describe the same talk! It's a good one, it gets audiences involved early on, and the precise title is a matter of marketing: "Lies My Teacher Told Me About the Confederacy," "How History Keeps Us Racist — And What To Do About It," or "The Most Important Era of American History You Never Heard Of, and Why It's Still Important Today."
The next three titles describe different talks all related to lies we have learned (and still pass on) about Native Americans (American Indians): "How U.S. History Courses Make Native Americans Look Stupid — And How To Do Better," "Using Thanksgiving To Teach about Native Americans," and "Lies My Teacher Told Me About Christopher Columbus." They might be particularly useful in the fall, owing to Columbus Day and Thanksgiving, two days especially noted for teaching wrong information about Native Americans.
"How American History Leaves Out Women, Gays, and Lesbians — and How and Why To Do Better"
A talk for teachers in all disciplines (in a school system or a college): "How To Expect and Get Good Performance from All Students." Treats different learning styles, teacher expectations, and unusual methods of testing, by providing usable tips for actual teachers.
Sundown Towns Workshop
Jim Loewen gives talks and workshops on Sundown Towns. Talks on this topic are illustrated and are interesting for communities, campus-wide college venues, and banquets, etc., for organizations. Workshops are suitable for community organizations concerned about race relations, housing discrimination, "Driving While Black," etc., and for lawyer groups. They are also useful for teachers who want to help students do research on their own towns – perhaps middle schoolers who can interview senior citizens in a nursing home, or high school Advanced Placement students in the "lame duck" session after their ETS exam, or college students.
Jim Loewen's Other Workshops
My most popular workshop is sometimes titled "The Seven Deadly Sins of Social Studies Schooling," for the alliteration of course. It can also be titled "Lies My Teacher Told Me and How To Do Better." The workshop is aimed at K-12 in-service teachers and ed. students. I find this to be a good mix, better than either group alone, but have also given the workshop to each category of participants separately. College faculty in education and history have also enjoyed it. This workshop stresses going beyond history textbooks and equipping students to "be their own historians." Terms like ethnocentrism, Eurocentrism, and historiography come alive.
Almost as popular is the workshop "Practical Issues in Teaching History: Using the Web, Young Children, Projects, the Tyranny of Coverage, Dealing with Parents and Principals." This workshop begins with participants in pairs, answering two questions: what issues are most important to me to get addressed in this workshop? and what method(s) have I used successfully to turn students on to a given topic in history? I collect answers to the former; on the fly I then structure them and begin to suggest answers, sometimes asking for suggested answers from participants.
Owing to the reception accorded my history book, Lies Across America: What Our Historic Sites Get Wrong, I have developed two workshops. One, for staffs of museums and historic sites, tells the importance of facing the past squarely, suggests ways to do so, and gives examples of institutions that have flourished, not shrivelled, as a result. It is titled "Telling the Truth on the Landscape: Why and How to Do It." A second workshop, "Visiting and Creating Historic Sites," is aimed at people who visit and use historic places. It shows deliberate errors and coverups perpetrated by historic sites, suggests ways to help students learn about sites before they visit as a class or individually, and gives examples of students who have told parts of their community's history on the landscape or the web.
Each workshop is illustrated, using a computer running PowerPoint. I'll bring the presentation on a flash drive. I will get to you a small handout (one to two sheets) for duplication for each participant. I have given these workshops successfully to groups ranging from a dozen to several hundred people. Each takes at least 90 minutes, 120 minutes with increased group participation. Book-signings usually work well after workshops, because I'm funny as well as serious. They are important to me because they expose people to my ideas; they can generate revenue for your organization or nearby bookstore. They also treat audiences seriously, as mature people who consider buying books for their own education and that of others.
Reactions to Talks on Sundown Towns by Jim Loewen
"Your talk was absolutely wonderful and stimulating. Our University community benefited greatly from your insightful words about the history, politics, and practices of racism across the country and, moreover, in our very own neighborhood." — Isis Semaj, Provost's Office, University of Maryland, 10/2008.
"We were delighted to have you as our key luncheon speaker… Your story is riveting, your presentation was compelling, and the importance of this neglected history is clear to everyone who hears you." — Jack Boger, Prof. of Law, University of North Carolina, 1/2006.
"The faculty in attendance were really thrilled with your presentation and were using it as an example of the 'kind of events we should have more of.'… It was definitely one of the highlights of the fall semester in terms of extracurricular opportunities for students, faculty, and staff." — Christine Lally, County College of Morris (NJ), 11/2005.
"Thank you for the stimulating conversation at lunch and throughout the day with students. In fact, the conversation will continue here at HPHS with about 30 teachers buying Sundown Towns at the reduced price offered by your publisher." — Casey Wright, Social Science Department Chair, Highland Park High School, Highland Park, Illinois, 10/2005.
"Your presentation was inspiring and challenging — perfect." — Elise Fillpot, Director, Bringing History Home project, Iowa, 10/2005.
"I've had nothing but rave reviews of your lecture! Everyone was so happy, and I'm glad we had the extra books signed because people are still coming in to get them! The faculty were THRILLED with the presentation and I was very happy with the attendance." — Jean Mick, University of Michigan Dearborn, 9/2005
"I believe everyone who was present and heard your talk would agree that you brought together some half memories and some emotions we all carry along with a bit of shame that people we know could impose racism on our communities. We need these reminders and we are all appreciative of the work you have done to bring the lowdown on Sundown Communities to us. We can only hope that your work will help to also bring the curtains down on this phase of our history." — Kate Ostrom, President, Puget Sound Association of Phi Beta Kappa, 11/2004.
Read Some Reactions to Other Talks and Workshops by Jim Loewen
"After the lecture on Wednesday evening, several of my colleagues commented positively on the substance of your presentation, as well as on the enthusiasm and wit with which you conveyed your material. It is obvious that your reputation as a passionate scholar and advocate for social justice is well deserved. We were delighted by the interest your lecture clearly generated among students as well as faculty." — Robert F. Martin, Chair, Department of History, University of Northern Iowa, 4/2016.
"One of the most entertaining, entrancing, and informative lectures that I have had the pleasure of attending." — student, Kennesaw State University, 9/2015.
"I've received outstanding feedback from my students about all three of your talks here at NMU. You made quite an impression, and I mean that in the most complimentary manner." — Kathryn Johnson, Northern Michigan University, 2/2015.
"I heard many positive responses from both students and faculty and I know for many of us it was a stand-out Forum that we won't soon forget." — Gerald J. Mast, Forum Director, Bluffton University, 2/2015.
"You were funny, engaging, and you left everyone with knowledge they did not have previously." — Millie Williams, Program Coordinator, Paul Robeson Cultural Center, Penn State U., 11/2014.
"Your very presence at our conference was a highlight. Then you spoke with so much knowledge and passion for the truth." — Sheryl Lain, Office of Public Instruction, WY, 5/2014.
"Since [your] lecture, I've read Lies My Teacher Told Me, most of The Confederate and Neo-Confederate Reader, and Teaching What Really Happened. Also, I've COMPLETELY changed how I reach AP American history." — participant in workshop, Gwinnett County Public Schools, GA, 6/2013.
"I wanted to let you know how much our campus LOVED Dr. Loewen. He was personable, funny, and so informative." — Dr. Matt Pearcey, Office of Diversity and Inclusion, Minnesota State University Moorhead, 9/2012.
"… the perfect keynote speaker. It's safe for me to say that this conference went as well as I could possibly have hoped, … and you are a central reason why." — Ben Railton, President, New England American Studies Association, 11/2011.
"We have never had a scholar so well received." – Linda Whitley, Pinellas County Public Schools (FL), 8/2007.