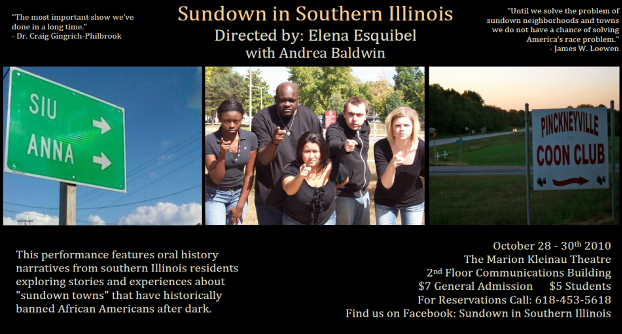 Sundown Towns in the Arts
Sundown Towns Treated in Hollywood Feature Films
In The Green Book (Academy Award, 2019), the "odd couple" come upon a sundown town in Mississippi (where there are almost none) after a road trip through IN IL, and IA (where there are hundreds).
The sheriff in The Fugitive Kind, starring Marlon Brando, tells of a neighboring Mississippi town with a sundown town sign.
Sudie and Simpson is set in rural Georgia north Georgia where sundown towns did exist, although this town is imaginary. [Not really "false"]
Lovecraft Country, a series on HBO, debuted summer 2020, and takes full account of sundown towns in the North, in Pennsylvania I believe.
Reviews and Presentations about Sundown Towns
Various Articles about Sundown Towns in the News
This article offers a good summary of Sundown Towns
A sundown town resident set himself on fire to protest his town's racism. A new film tells his story.
WEEK-TV (Peoria, IL) special report "Sundown past influence explored by nationally recognized author"
WEEK-TV (Peoria, IL) special report "Central Illinois Works to Change Associations With Racist Sundown Towns"
"Loewen answers attack in Champaign News-Gazette, suggests steps for "recovering" sundown towns in Champaign County to take."
"Discussion of interesting interracial town near Waverly, OH, contains first-hand information on Waverly as a notorious sundown town."
"Talking History," a program of the Organization of American Historians, interviewed Jim Loewen about Sundown Towns.
Loewen attacks bad history in nomination statement of Kenilworth, IL, as "most endangered historic site"
The governor of Indiana tried to stop Loewen from speaking in the state about sundown towns
Reviews, readers, and critics on the book, Sundown Towns. Include the award it won.
The American Sociological Association reviewer praises Sundown Towns and agrees with its call for research and change.
Video about fair housing that references "sundown towns." (or is said to; in any case, it explains sundown suburbs pretty well)
Melissa Harris-Perry tells "The History of Sundown Towns" on MSNBC-TV
"Sundown Town News," my e-newsletter
Article, "An Occupied Milwaukee," by Robert Smith, links the intense segregation in Milwaukee to the sundown towns around it in Wisconsin
Article, "Author: Sundown Towns in Southern Illinois, Should Acknowledge Racist Past, Take Steps To Change"
Website: Corbin, KY, an infamous sundown town, takes steps to declare itself a "Sunup City," welcoming all races.