Media Stories, Reviews, and Comments about
Lies My Teacher Told Me
Surely the most helpful quotation about Lies My Teacher Told Me is this one:
"Every teacher, every student of history, every citizen should read this book." — Howard Zinn, author, A People's History of the United States.
More Readers Respond to Lies My Teacher Told Me
"I am a 14‑year‑old in the small town of Mount Vernon, SD. Going into the 9th grade, I have read both Lies My Teacher Told Me and Lies Across America. These are EXCELLENT books! After reading them, I spread them around the school to different teachers. All were shocked and, due to this, are changing their teaching methods. They are reading what is in the textbooks and then reviewing them with the information from your books to show classes the truth in history. We are all glad that you shared this information with the world." — Andrew Frank, May 2001.
"I have … actually forced all of my friends and family at gunpoint to read [Lies], as well, and every one of them has done the same to their friends and family in turn (so I sincerely hope your living room is 'feng shei' by now)." — Robert Reames, June, 2001.
"… Your book taught me more about American history then any of the years I've spent in the public education system." — Nancy Ng, student, SUNY‑Albany, 7/2001.
Readers' and Critics' Capsule Responses to Lies My Teacher Told Me
Lies My Teacher Told Me is an extremely convincing plea for truth in education." — San Francisco Chronicle
"I loved your book and plan to strongly recommend it to all of my colleagues." — Thomas Corwin, 30-year veteran HS history teacher
"This book takes up where Howard Zinn's A People's History of the U.S. leaves off." — Polly Mann, Southside Pride (Minneapolis)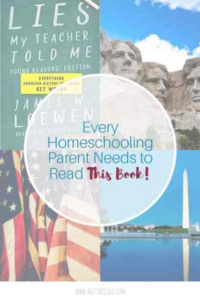 Many Home Schoolers Use Lies My Teacher Told Me.
"I read it cover to cover (including the footnotes), found it hard to put down, and was sad when it ended." — David Stanton, Clonlara School Home Based Education Program, and editor of Clonlara Resources (for home schooling).
"I deal with homeschooling students and allow them to pick whatever materials they wish to use in their study of history but almost always begin by recommending your book." — Einar Kvaran, Clonlara School, Michigan.
"I left school feeling I was cheated of an education It was no inner-city, poverty-stricken school district, either. As soon as I left, I started reading everything I could get my hands on. I literally felt stupid. I wanted to be educated and realized I was going to have to do it myself. When my son was born . . . I came to the decision to homeschool him. Your books have been a great help in giving me an overview of a more complete American History. I'm using the information in them as well as using them for starting points for further research. Thank you for writing them." — Debra Molinari, email, 4/2000.