Best-Selling Book by a Living (as of 2020) Sociologist!
High school students hate history. When they list their favorite subjects, history always comes in last. They consider it the most irrelevant of 21 school subjects; bo-o-o-oring is the adjective most often applied.
James Loewen spent two years at the Smithsonian Institute surveying twelve leading high school textbooks of American History. What he found was an embarrassing amalgam of bland optimism, blind patriotism, and misinformation pure and simple, weighing in at an average of four-and-a-half pounds and 888 pages.
In response, he has written Lies My Teacher Told Me, in part a telling critique of existing books but, more importantly, a wonderful retelling of American history as it should – and could – be taught to American students. Beginning with pre-Columbian American history and ranging over characters and events as diverse as Reconstruction, Helen Keller, the first Thanksgiving, and the My Lai massacre, Loewen supplies the conflict, suspense, unresolved drama, and connection with current-day issues so appallingly missing from textbook accounts.
The book caught readers' interest, landing on bestseller lists in Boston, Burlington VT, Seattle, Portland, and San Francisco and becoming the best-selling book in its category (historiography) at Amazon for year after year. Many readers, however, assumed that the textbook problems it pointed out surely got fixed. With one exception (the Columbian Exchange), they didn't, so in 2007 Loewen examined six additional textbooks for a completely revised second edition. To his disgust, they actually grew longer, now averaging 1,152 pages, and duller!
A treat to read and a serious critique of American education, Lies My
Teacher Told Me is for anyone who has ever fallen asleep in history class.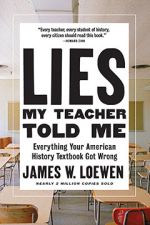 Where to Get Loewen's Books
Lies My Teacher Told Me has been a perennial bestseller at the book-cafe Kramer Books in DuPont Circle, DC, for decades. They make an effort always to have it, Lies Across America, and Sundown Towns in stock, so if you're in DC and need any of them right away, or wish to enjoy a nice pastry and coffee while looking at books… 
Amazon lists  Lies My Teacher Told Me as their #1 Best Seller in "Education History & Theory" here. Amazon also often lists it as a best-seller in U.S. History, historiography, and History of Education.
Barnes & Noble usually carries Lies My Teacher Told Me in all locations and sells at the same discount as Amazon. B&N also sells Loewen's taped lectures, "Rethinking Our Past," in their "Modern Scholar" series, but most folks now get this item via download.
For a while in the summer of 2019, the new edition of Lies My Teacher Told Me was the best-selling single item at Powell's Books, said to be the largest physical bookstore in the world.
And of course your friendly independent neighborhood bookstore, if you are lucky enough to have one, can get any book by Loewen, even those that are out of print, if you ask them.